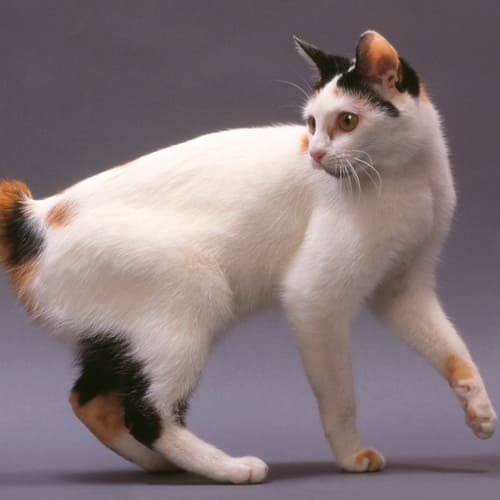 Japanese Bobtail Profile
Lifespan: 9-13 Years
Avg height: 20-22 cms
Avg weight Female: <3.6 kg
Avg weight Male: 3.6-5.4 kg
Coat type: Short and long hair varieties, silky coat.
Coat colours and body type: Medium build; white, black, red, brown, blue, cream, Mi-Ke/Tri-colour, tortoiseshell, silver, dilute tortoiseshell.
Grooming required: Low - occasional grooming.
Similar Breeds: American bobtail, Manx cat.
Health Profile: No known genetic predispositions, generally hearty healthy breed. Short tail unique to each individual cat.
Japanese Bobtail temperament
Smart, affectionate, loyal, confident, and athletic. Highly social and interactive. Strong-willed and very intelligent. This breed will require play and is best suited to a family or multi-pet home. They will dislike being left alone. Known to enjoy carrying toys/objects in their mouth.

Please be advised the information provided is purely an indicator of breed traits and characteristics and that within some breeds there can be significant variation.
Hear from our customers
"I've never had such a good experience with an insurance company. Such a good experience during such a difficult time". – Sandra, owner of Ide in NSW.