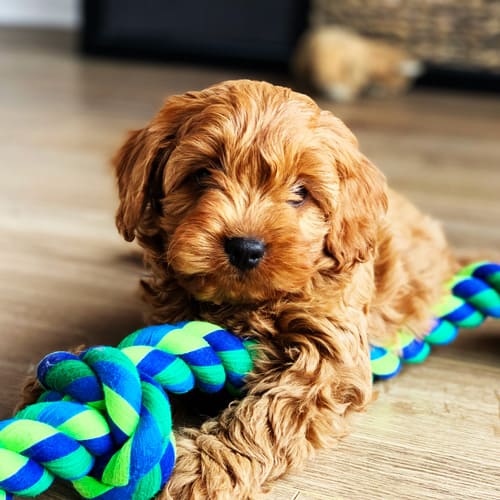 Pet insurance for puppies
There's no denying the mischief that puppies get into. They chew everything and romp about carelessly as they explore and learn their limitations. But an innocently swallowed rick can quickly be a cause for emergency care.
That's why, pet insurance for puppies is important. They'll face lots of challenges in the first year of their life, and being protected by insurance during this time can make a big difference.
---
What's covered in this page:
Vets describe the common health issues for puppies
Tips on choosing the right dog insurance covers for your puppy
Understanding Vets Choice insurance for puppies
Why choose Vets Choice Pet Insurance for puppies?
Association Endorsed
Endorsed by the Australian Veterinary Association...
Multi-pet discount
5% discount offered when more than one pet is insured...
No Claims Bonus
You can be rewarded for keeping your pet in good health. Your policy premium can be reduced by up to 5% if you keep your dog or cat healthy and you have no claims during your annual policy period.
Dental Cover
Like humans, dental work for animals can be costly. As pets use their mouth for more than just eating, they run a high risk of incident and disease. More than 80% of dogs and 70% of cats over three years old have some form of periodontal disease according to Vet West hospitals. Dental disease is seen frequently in animals over three years of age, and puppies and kittens who tend to have more fragile teeth. You can get cover for dental accident & illness, and also routine care.
Our Pet Insurance Plans
Choose sensible and make the decision that best suits your circumstance. With Vets Choice you can choose between two main levels and of, and also add-on some extras like dental.
1. Pre-existing conditions are excluded. Exclusions, limits and sub-limits may apply.
Tips for choosing the right insurance for your Puppy
If you're looking for the best pet insurance for your puppy you really have to look closely at the policies available, what they include and also don't include, and the sub-limits on some of the accident and illness covers because not everything is covered to the full annual policy limit.
Be aware of sub-limits – While a cheap monthly premium can seem appealing, its more important to look at the sub-limits for cover in the policy to make sure you're not leaving your pet underinsured or uninsured for conditions their breed may be prone to.
Look after your pets teeth – When we think of protecting our pets, we should also protect their teeth. Pets use their mouth for lots of things; playing, exploring their surroundings as puppies and eating. Dental treatments are expensive, and dental cover is an important add-on that can help keep your pets smile happy and healthy.
Take advantage of gap payments – Some pet owners tend to opt for insurance plans with no gap payments to avoid out-of-pocket expenses. However, if you take out a policy with gap payments, it can actually help bring down the premium on higher-coverage products. In other words, gap payments are one way to help make the overall cost of your pet's insurance policy more affordable.
Request a puppy insurance quote
If you're looking for the best pet insurance for your puppy you really have to look closely at the policies available, what they include and also don't include, and the sub-limits on some of the accident and illness covers because not everything is covered to the full annual policy limit.
Common health issues for Puppies
There's a lot going on all at once when you get a puppy. However, even though they're young, they're still prone to conditions. Below are some of the common things Australian vets treat puppies for.
Kennel Cough
A highly contagious respiratory disease, the kennel cough is a fairly common disease in puppies. Largely spread and caught where lots of dogs congregate, such as dog parks.
Proof of KC vaccination in the last 12 months is required for cover.
Do we cover it?
Pro policy - ✓ Yes
Elite policy - ✓ Yes
Patella Luxation (Joint Luxation)
Hip dysplasia, Elbow dysplasia, and patella luxation (dislocation of the patella bone) are common congenital issues that arise as puppies grow. They all range in severity and can require x-rays or other joint scans to diagnose. Treatments range from dietary changes, to medication, or surgery in more severe cases which can cost between $5,000 and $7,000.
Do we cover it?
Pro policy - ✓ Yes
Elite policy - ✓ Yes
Canine Distemper
While puppies may seem indestructible, they're not. An infectious disease caused by a virus that attacks the respiratory, gastrointestinal and nervous system of puppies and dogs.
Must have proof of a C3 vaccination or higher in the past 12 months for coverage.
Do we cover it?
Pro policy - ✓ Yes
Elite policy - ✓ Yes
Parvovirus
A highly transmissible, contagious, and common infection disease among puppies and dogs, causing acute gastrointestinal illness, with a high mortality rate. Often striking in puppies between the ages of 6-20 weeks, but it may also be caught in older dogs too.
Must have proof of a C3 vaccination in the last 12 months for coverage.
Do we cover it?
Pro policy - ✓ Yes
Elite policy - ✓ Yes
---
This information general in nature only and does not consider your personal objectives, financial situation or particular needs and is not recommending any particular product to you.

---
Claim in 3 easy steps
We offer both a post-care claims process or, a pre-approved pre-care claim. Our simple claims process makes it easy to get your money back into your account quickly. Simply lodge the claim either online or through the phone. We do a quick assessment, complete the claim, and send you the balance.

---
Frequently Asked Questions
Vets Choice currently only provides cover for cats and dogs.
Dogs and cats between the ages of 8 weeks and 8 years. With guaranteed lifetime cover for pets as long you join before they reach their 9th birthday and the policy remains active.
Your vet will be able to provide you with an estimate of age after a physical examination, which will be accepted by Vets Choice as your pets age, we don't need your pets date of birth, just how old they are in years.
Yes, we offer a 5% discount where there is more than one pet listed on a policy.
We will treat most hereditary and congenital defects for your pet if you or your vet were not aware of, or could not reasonably have known of, at the time of your cover commencing under this policy. Exclusions are listed here.
No. Medical records are not required at the time of taking our pet insurance. You will however be required to provide your pets medical history to support a claim.
No. Pre-existing conditions and waiting periods apply. These are listed here.
This is an accident and specified illness policy and was specifically designed to keep the cost of pet insurance down for pet owners. As such routine care, vaccinations and check-ups etc. are not covered. For more details about what is and isn't covered by this policy check here.
Yes. For scheduled procedures, it is possible at our discretion to arrange for the claim to be pre-approved. You will need to provide a detailed quote from your vet. This means that you pay your excess only, and we will settle the bill with your vet for costs covered by the policy up to the amount quoted by the vet. We will work with you throughout to assist and provide guidance.
Vets Choice offer a benefit level of up to 80% on both our Pro and Elite Cover plans. This means we will pay up to 80% back on eligible claims or vet bills, after you pay your nominated excess, and up to your annual benefit limit and any other applicable sub-limits. For example, if you have an Elite Cover plan with a $500 excess, and your pet undergoes a $10,000 treatment, Vets Choice will cover up to 80% of $9,500, as long as it's within your annual benefit limit. Please keep in mind that some accidents, illnesses, and dental covers may have sub-limits. This means that we can only pay up to a certain amount as indicated on our product comparison table and Product Disclosure Statements (PDS).
We support and promote positive pet ownership and therefore recommend proactive preventative measures wherever available. This is why our pet insurance policies don't cover preventable conditions. But, we will cover certain aspect of preventable illnesses, read more about that here.
Vegas

"Ella from Vets Choice was super helpful; She really took the time to explain everything in detail, simplified the language and gave step by step guidance"
Vegas' owner, Sarah from WA.