Compare pet insurance
Comparing pet insurance options is about so much more than price. There's a range of features, benefits, limits and terminologies to consider in order to get the best value. Less does not always mean more. Just because a premium or excess option is cheaper, does not mean you are getting a better deal. Below are some things you should always consider when choosing pet insurance:

---
Compare pet insurance prices
Prices for pet insurance vary depending on the covers provided. Generally, the higher the price of pet insurance the more that is covered and the higher the limits. If you're looking for cheap pet insurance you'll find it can often have fewer covers for accidents and illnesses where the main things your pet might be at risk of are not covered. Often the price may seem smaller if there is a gap payment, but this will only mean you pay more again when something actually happens and you need to claim.
It is important to assess how your pets breed, size and situation match with the pet insurance policy you are looking at to make sure your beloved pet will be covered for the risks that will cost the most.
Below is a price comparison of the Vets Choice Pro and Elite insurance vs the average price of pet insurance in Australia in 2019 according to the Canstar pet insurance market analysis.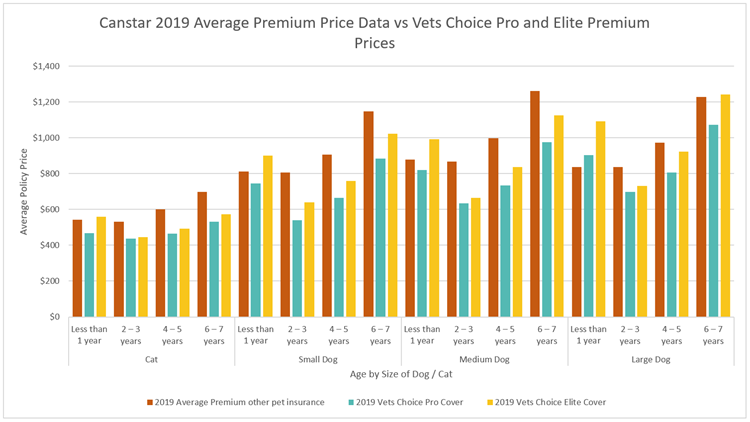 Comparing Vets Choice Covers
Choosing the right level of pet insurance cover starts by having the right choices available. We offer two choices of pet insurance with the option of adding dental cover as well.
PRO

ELITE

Annual Limit - $12,000

Annual Limit - $15,000

Accident

+

Specified Illness

Accident

+

Illness

(Chronic Illness, Extended Illness, Specified Illness)
Choose to add-on Dental Covers
We also offer two add-ons for dental, with the levels of cover known as Dental and Dental Plus. Vets Choice Dental covers dental injuries and illnesses such as cavities, Feline Resorptive Lesions (FORLS) and gingivitis, while Dental Plus covers routine care such as dental check-ups, scale and polishes.
Dental

Dental Plus

Accident

+

Illness

Routine Care

+

Preventative Care
How to choose the right pet insurance cover
When choosing pet insurance there are certain features that you should always be mindful of:
Gap payments (Co-insurance / Benefit Level)
Annual Limits
Illness Covers
Ongoing or Chronic illness
Accident Covers
Third-party liability
Lifetime cover
Pre-existing conditions

Dental
Routine Care
Sub-limits
Choice of Vet
Choice of excess
Ease of Claims
Limits for older pets
Discounts
Each of these are a factor in the cost of your insurance policy and what your pet is covered for. Below you can see more on what all of these mean, and what you can look out for.
Benefit level options

Gap payments, also known as co-insurance, or percentage covered, are all the same. They can also be named benefit level, or reimbursement rate. It is when an insurer only covers some of the cost of the claim. This means, if you have a claim for $10,000 and the insurer has a gap payment of 20%, they will only pay up to $8,000 of that claim. Gap payments are different to excess, so even choosing low excess does not eliminate gap payments, the only way to avoid them is to choose a policy with no gap payments.
Multi-Pet Discount
Many insurers provide some form of discount. Often discounts are given for the first year only for puppies and kittens. Vets Choice offer a discount when you insure two or more pets with Vets Choice whereby a discount will be provided for each insured pet, and will continue when the policy is renewed the following year.
Accident Covers
Accident cover usually covers any injury arising from an accidental event such as bone fractures. This can include incidents like tick paralysis and snake bites as well. Make sure you know what you are covered and not covered for, including any limits that may apply. It is also important to always look at third party cover for policies with accident cover, as they go hand in hand.
Illness Covers
There are many illnesses that a pet can fall ill to, even if they are mostly indoors. You should always look out for limits and exclusions of common covers such as cancer, or cruciate ligament conditions. This is one of the most common claims in Australia, and having it significantly limited can leave you out of pocket if this kind injury occurs. Vets Choice works with vets to work out appropriate limits for such covers.
Annual Benefit Limit
The amount you are covered for each year of your policy. This is important as some procedures can cost well over $10,000 and the annual limit covers multiple claims within the period, not the limit of each claim. For example, with and annual benefit limit of $15,000, and with no gap payment, you would recieve $15,000 back if you had three eligible claims totalling $15,500 in your annual policy period, after excess is paid.
Pre-existing Conditions
Any condition whether it be an injury or an illness that occurred before a policy is taken out or during the applicable waiting period is usually considered a pre-existing condition. It is very rare to find a pet insurer that will not only cover your pet excluding the pre-existing condition, but also cover them for the pre-existing condition itself. Here at Vets Choice, with the sign off of your vet, we can cover your pet with its pre-existing conditions and the pre-existing condition itself if it meets our reasonable criteria (see further information).
Choice of Excess
Excess is the amount of any loss or damage you must pay before your insurance policy takes over. It is essentially a contribution for each claim. Most insurers offer a choice of excess which can either decrease your annual premium with a higher excess, or increase your annual premium with a lower excess (which is a lower risk on your behalf). Vets Choice offers a choice of excess, you can get a quote here and see the difference your choice of excess makes.
Dental Cover
Like humans, dental work for animals can be costly. As pets use their mouth for more than just eating, they run a high risk of incident and disease. More than 80% of dogs and 70% of cats over three years old have some form of periodontal disease according to Vet West hospitals. Dental disease is seen frequently in animals over three years of age, and puppies and kittens who tend to have more fragile teeth. You can get cover for dental accident & illness, and also routine care.
Lifetime Cover
It is hard to get cover for pets over a certain age. If your pet is already insured with Vets Choice and goes past the limiting age we will continue to provide you options for cover every year that you want to renew.
Third Party Public Liability
Pet insurance is to cover things that happen to your pet, but not many policies cover for things your pet does to others. Public liability is similar to your third party car insurance, it will cover you if your pet injures another animal, person, or property.
Ongoing or Chronic Illness
These are illnesses that are continuing conditions for an extended period of time. For example, diabetes is an ongoing illness that will require ongoing checks and medication. Usually, only the investigation but not treatment is covered by insurance. Make sure to check the cover for this if your pet is at high risk of diabetes or other chronic illnesses. The Vets Choice Elite policy does cover ongoing treatment for such illnesses.
No Claims Bonus
You can be rewarded for keeping your pet in good health. Your policy premium can be reduced by up to 5% if you keep your dog or cat healthy and you have no claims during your annual policy period.
Choice of Vet
Most vets use their own systems for record-keeping, and changing vets run a risk of losing crucial information of the pet's history. With Vets Choice you can send your pet to any qualified vet of your choice, keeping you with the vet who knows your pet best. Most insurers won't cover your pet past the age of nine, due to the increased risk they post. Insuring an older pet also becomes tricky with pre-existing conditions as well, which makes it more important to consider insuring your pet when they're young and healthy.
Dental Routine Care
Ongoing care is important to the health of a dog or cats teeth and gums. It significantly decreases the risk of related diseases that a lot of pets are at risk of as they grow. Cover for routine care does not have to be a lot, but knowing you're covered makes it easier to make those scheduled appointments and keep your pet happy and healthy.
Limits For Older Pets
Basically all insurance companies have age limits for younger and older pets. Usually its anything under 8 weeks, and older than 9 years. This is due to the increased risk of accident and illness and generally the cost to insure is too high. However, you can get lifetime cover for your pets life if your pet was already insured before the age of 9 and is continual.
Easy Claims
Some insurers require pages of documentation to be filled in order to make a claim, sometimes requiring printing and scanning that can be tedious. Vets Choice offer an easy online notification form that requires some basic information, and we check with your vet to make sure all the boxes are ticked for you. If you do need to call for any reason, our claims and customer care team are all in house and based in Australia.
| | | |
| --- | --- | --- |
| Annual Benefit Limit | Elite $15,000 | Pro $12,000 |
| Accident Covers - Pro and Elite | Covered | Waiting Period |
| Allergic reaction to an insect bite excluding flea bites | Covered | 21 Days |
| Anaphylactic shock | Covered | Nil |
| Bite wound or fight wound abscesses | Covered | 21 Days |
| A bone fracture | Covered | 21 Days |
| An embedded grass seed | Covered | 21 Days |
| Gastric dilation-volvulus' | Covered | 21 Days |
| Heat stroke | Covered | 21 Days |
| Ingestion of a foreign object | Covered | 21 Days |
| Ingestion of a poisonous substance resulting in toxicity treatment | Covered | 21 Days |
| Lacerations or abrasion of tissue, skin or mucous membrane due to external violence | Covered | 21 Days |
| Motor Vehicle Accident | Covered | Nil |
| Snake bite toxicity | Covered | Nil |
| Tick paralysis | Up to $2,500 per pet | 21 Days |
| Torn nail | Covered | 21 Days |
| All other accidental injuries* | Covered | 21 Days |
Specified Illness Covers - Pro and Elite

Covered

Waiting Period
Adrenal Conditions for dogs
Covered
21 Days
Anal Glands Rupture
Covered
21 Days
Arthritis - Investigation and Diagnosis
Investigation and Diagnosis Only
21 Days
Brachycephalic Obstructive Airway
Syndrome (BOAS)
Covered
21 Days
Cancer
Covered
21 Days
Cherry Eye
Covered
21 Days
Cruciate Ligament Condition
Choice of $3,300 or $5,300 per pet
6 Months
Diabetes - Investigation and Diagnosis
Investigation and Diagnosis Only
21 Days
Elbow Dysplasia
Covered
21 Days
Entropion
Covered
21 Days
Epilepsy - Investigation and Diagnosis
Investigation and Diagnosis Only
21 Days
Everted Laryngeal Saccules
Covered
21 Days
Feline Immunodeficiency Virus (FIV)
Covered
21 Days
Hernia
Covered
21 Days
Hip Dysplasia including Hip Replacement
Covered
21 Days
Immune Mediated Blood Disease
Covered
21 Days
Intervertebral Disc Disease (IVDD)
Covered
21 Days
Joint Luxation
Covered
21 Days
Lumps, Growths & Cysts Removal
Covered
21 Days
Non-Diabetic Cataract
Covered
21 Days
Pancreatitis
Covered
21 Days
Pneumonia
Covered
21 Days
Soft Palate Resection
Covered
21 Days
Stenotic Nares
Covered
21 Days
Thromboembolic Disease
Covered
21 Days
Triaditis
Covered
21 Days
Urinary Tract Infections, Diseases
and Obstructions
Covered
21 Days
Vestibular Disease
Covered
21 Days
Elite only covers
| | | |
| --- | --- | --- |
| Chronic and Extended Illness Covers - Elite Only | Covered | Waiting Period |
| Arthritis - Treatment | Up to $1,000 per pet | 21 Days |
| Diabetes - Treatment | Up to $1,000 per pet | 21 Days |
| Epilepsy - Treatment | Up to $1,000 per pet | 21 Days |
| Ear Conditions – Investigation & Diagnosis | Covered | 21 Days |
| Ear conditions - Treatment | Up to $1,000 per pet | 21 Days |
| Gastro-Intestinal Conditions – Investigation & Diagnosis | Covered | 21 Days |
| Gastro-Intestinal conditions - Treatment | Up to $1,000 per pet | 21 Days |
| Heart Conditions – Investigation & Diagnosis | Covered | 21 Days |
| Heart conditions - Treatment | Up to $1,000 per pet | 21 Days |
| Skin Conditions – Investigation & Diagnosis | Covered | 21 Days |
| Skin conditions - Treatment | Up to $1,000 per pet | 21 Days |
| All other illnesses | Covered | 21 Days |
Compare dog insurance to cat insurance
If you have a dog and a cat, you shouldn't worry too much about having different insurance products for each. Pet insurance policies are written for both cats and dogs because outside of the few specific ailments that each can contract (such as Feline immunodeficiency virus (FIV) for cats), they both have similar risks for accidents and illnesses. The prices will change dependant on the age and the breed or size of your pet, as well as several other smaller factors.
Hear from our customers

"I loved the no co-insurance, pre-approval for claims and lifetime cover, these were the reasons why I chose Vets Choice"

– Roxy's owner from Flemington, VIC