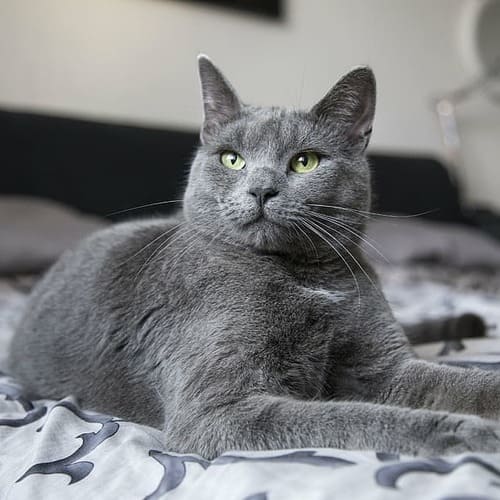 Korat Profile
Lifespan: 10-15 Years
Avg height: 20-25 cms
Avg weight Female: 2.2-4 kg
Avg weight Male: 4-5 kg
Coat type: Short, sleek, silver coat.
Coat colours and body type: This small to medium build, wholesome-looking cat, carries most of its weight in its front quarters. They are muscular and notably slow to develop. Their physique may seem awkward until up to age 4 when they are fully developed. Eye colour may also fluctuate during this early developmental time. They come only in solid silver, tipped blue, with vivid green eyes.
Grooming required: Low - occasional brush.
Similar Breeds: Russian Blue, Siamese, Burmese.
Health Profile: Gangliosidosis.
Korat temperament
This breed is very affectionate highly alert and bonds strongly to one owner. They are playful, yet gentle, particularly with children. They are not well suited to a noisy boisterous environment.

Please be advised the information provided is purely an indicator of breed traits and characteristics and that within some breeds there can be significant variation.
Hear from our customers
"I've never had such a good experience with an insurance company. Such a good experience during such a difficult time". – Sandra, owner of Ide in NSW.