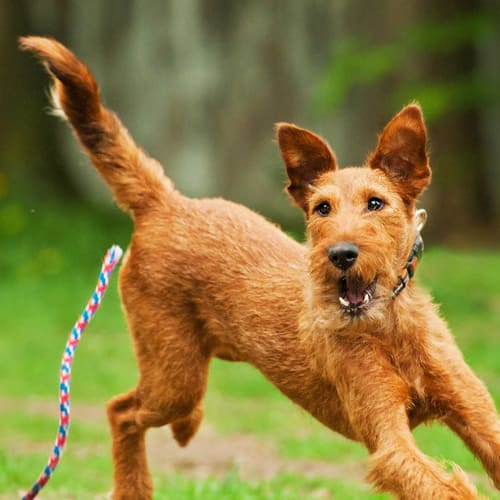 Irish Terrier profile
| | |
| --- | --- |
| Friendliness with people: | |
Lifespan: 12-15 Years
Avg height: 46-48cm.
Avg weight: 11-12kg
Coat type: Harsh, wiry coat.
Coat colours: Red.
Originally bred for: Hunting otter, fox, and vermin.
Breed traits: Bold, independent, playful, assertive.
A little about the Irish Terrier
The Irish Terrier is a graceful and racy breed. Bold and fearless, they are a dog with an active mind who needs daily physical and mental stimulation. This is best provided on a leash or in a confined space as they can have the tendency to be wary or assertive with other dogs and strangers.
IRISH TERRIER HEALTH INFORMATION
The Irish Terrier can be predisposed to bladder stones (Urolithiasis), Cataracts and Hypothyroidism.
Please be advised the information provided is purely an indicator of breed traits and characteristics and that within some breeds there can be significant variation.
Hear from our customers
"I've never had such a good experience with an insurance company. Such a good experience during such a difficult time". – Sandra, owner of Ide in NSW.