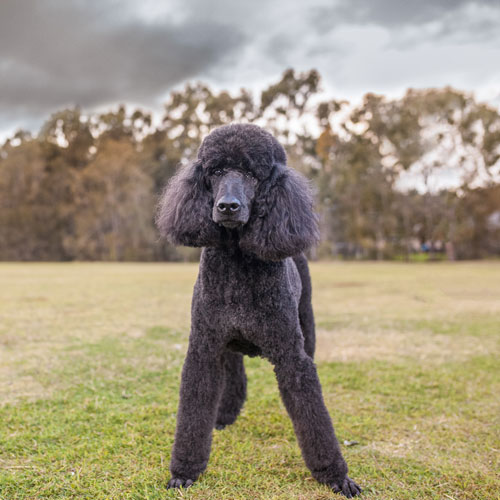 Labrador profile
| | |
| --- | --- |
| Friendliness with people: | |
Lifespan: 12-15 Years
Avg height: 38-53cm
Avg weight: 20.5-29kg
Coat type: Curly or corded coat that is dense, harsh and tight. Varies in length. Hypoallergenic.
Coat colours: Blue, grey, brown, coffee-colour, apricot, cream, white
Originally bred for: Water retrieving, performance
Breed traits: Lively, playful, smart, responsive, obedient, eager to please, amiable
A little about Standard Poodles
Poodles are infamous for their loyalty and intelligence as pets, and are delightful companions for many reasons. They are a popular breed amongst dog owners, and are particularly kept for their hypoallergenic fur and low shedding.
STANDARD POODLE HEALTH INFORMATION
The most common health concerns for Poodles are hereditary problems such as hip dysplasia, cancer, Addison's disease, gastric torsion, thyroid issues, progressive retinal atrophy, eyelid problems, and skin problems. Poodles can also experience cataracts, epilepsy and ear infections.
WHAT YOUR VET THINKS WHEN A STANDARD POODLE WALKS THROUGH THE DOOR…
"Look at all that luscious fur"
A day in the life of "Pip"


People. People everywhere! I love when my owner has people over. It means more pats and more new friends. I walk amongst the sea of legs, sniffing shoes and licking legs. I finally spot what I'm looking for, an arm hanging loosely by someone's side. Prime target to give pats. I walk right up and oomph, I lean on the leg of the human.
Success! I feel a hand rub my ears, gently massaging and tussling them. This is the life. My tongue hangs from my mouth as I relax into the pats. But then, they stop! Half falling, I stumble to stand as the human moves off into the crowd of people and out of sight. Not a worry, time to find another.
I jog around again with my head high, sniffing the scents of the party. I spot another arm and plod over, sitting and leaning again then look up and whimper. Time to play all the moves. And once again, success. The humans' hand rests on my head and massages me above my eyes and behind my ears; that's the spot! I could sit like this forever, but again the human moves off leaving me without pats. I stand up again, look around and trot off. Time to find another hand.
Please be advised the information provided is purely an indicator of breed traits and characteristics and that within some breeds there can be significant variation.
Hear from our customers
"I've never had such a good experience with an insurance company. Such a good experience during such a difficult time". – Sandra, owner of Ide in NSW.