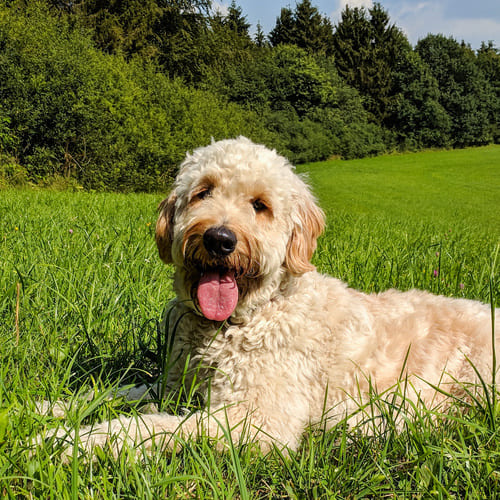 Groodle / Golden Doodle pet insurance
Groodles, also known as Golden Doodles, are the ultimate family companion, with the energy and affection to match. Such important member of your family deserve the best life.
---
What's covered in this page:
Vets describe the common health issues for Groodles / Golden Doodles
Tips on choosing the right dog insurance covers for your Groodles / Golden Doodles
Understanding Vets Choice insurance for Groodles / Golden Doodles
Common health issues for Groodles / Golden Doodles
Australian vets have told us the most common accidents and illnesses for Groodles / Golden Doodles. Despite being a mixed breed, Groodles / Golden Doodles are still subject to many of the health conditions that Golden Retrievers and Poodles are. Our pet insurance helps protect them throughout their life with cover built by vets
Joint conditions and joint luxation
Hip dysplasia, Elbow dysplasia, and patella luxation (dislocation of the patella bone) are common congenital issues that arise in Groodles as they grow. They both range in severity and can require x-rays or other joint scans to diagnose. Treatments range from dietary changes, to medication, or surgery in more severe cases which can cost between $5,000 and $7,000.
Do we cover it?
Pro policy - ✓ Yes
Elite policy - ✓ Yes
Epilepsy
Epilepsy is common in Groodles, and is the most common neurological disease found in dogs at almost 1% of all dogs developing epilepsy. Epilepsy causes seizures and makes life very stressful for dogs and their owners. Unfortunately, there is no cure for epilepsy and ongoing anti-epileptic medication is the only treatment.
Do we cover it?
Pro policy - ✓ Investigation and Diagnosis Only
Elite policy - ✓ Yes
Von Willebrand's disease
Von Willebrand's disease is a blood disease in both humans and dogs where there is a deficiency in the protein that helps blood clot. It's very common in Dobermans but more severe cases come in thirty other breeds including Groodles / Golden Doodles. Symptoms include spontaneous bleeding and usually requires emergency medical attention. It is difficult to detect until an incident occurs.
Do we cover it?
Pro policy - x No
Elite policy - ✓ Yes
Cancer
Cancer is similar in dogs as it is in humans. Lymphoma, melanoma, and even breast cancer can develop in dogs. About 10% of cases presented result or can be treated by surgery. Abdominal cancers could present as emergencies if previously undetected, and costs range from $1,500 to $3,000. However, treatment could be ongoing and costs in recovery can be significant.
Do we cover it?
Pro policy - ✓ Yes
Elite policy - ✓ Yes
---
This information general in nature only and does not consider your personal objectives, financial situation or particular needs and is not recommending any particular product to you.

---
Tips for choosing the right insurance for your Groodles
If you're looking for the best pet insurance for Groodles you really have to look closely at the policies available, what they include and also don't include, and the sub-limits on some of the accident and illness covers because not everything is covered to the full annual policy limit.
Be aware of sub-limits – While a cheap monthly premium can seem appealing, its more important to look at the sub-limits for cover in the policy to make sure you're not leaving your pet underinsured or uninsured for conditions their breed may be prone to.
Look after your pets teeth – When we think of protecting our pets, we should also protect their teeth. Pets use their mouth for lots of things; playing, exploring their surroundings as puppies and eating. Dental treatments are expensive, and dental cover is an important add-on that can help keep your pets smile happy and healthy.
Take advantage of gap payments – Taking out a policy with gap payments can help bring down the premium on higher-coverage products. If you want better cover at a lower cost, opt for 80% benefit level instead of 100%.
Vets Choice insurance policy features for Groodles
Choosing the right level of pet insurance cover starts by having the right choices available. We offer two choices of pet insurance with the option of adding dental cover as well. It is important to know and understand the common health issues for your breed so that you know what is best to be covered for.
PRO

ELITE

Annual Limit - $12,000

Annual Limit - $15,000

Accident

+

Specified Illness

Accident

+

Illness

(Chronic Illness, Extended Illness, Specified Illness)
Choose to add-on Dental Covers
We also offer two add-ons for dental, with the levels of cover known as Dental and Dental Plus. Vets Choice Dental covers dental injuries and illnesses such as cavities, Feline Resorptive Lesions (FORLS) and gingivitis, while Dental Plus covers routine care such as dental check-ups, scale and polishes.
Dental

Dental Plus

Accident

+

Illness

Routine Care

+

Preventative Care