Being a Vets Choice referral partner - Sai Vet Hospital
SAI Vet Hospital opened its doors to the pet owners of Willetton in Perth in October of 2019. A newly established practice opened by Dr Amit Setia. SAI Vet Hospital provides general practice services as well as having a fully equipped emergency and intensive care unit and Animal hospital.
For those that don't know Willetton is to the south of the Perth CBD and has over 18,000 residents. Dr Amit lives in the suburb and is a readily recognised member of the local community. His practice has also quickly established itself as being the go-to destination for pet owners, both in relation to accident and emergency cases as well as for routine and preventative care.
SAI Vet Hospital provides a range of services including soft tissue and orthopaedic surgical procedures, dentistry including dental radiographs, extractions, ultrasound, laser therapy, laser surgical procedures, endoscopy exams, radiographs and even puppy school.
One of the advantages of opening a new practice has been the ability to build from the ground up and include new technologies and equipment to better support the needs of todays' pet owners, the practice boasts a new multi-purpose state of the art surgical suite, digital radiology, full in-house laboratory, high quality advanced ultrasound, endoscopy, and a wide range of high level monitoring and systematic diagnostic equipment.
Dr Amit & Practice Nurse Shontae Packham with one of their patients & her new pups
As many of you will know the advancements in procedures and treatments continues to struggle with customers' expectations regarding their pet's health and well-being. Dr Amit as do many vets continually struggles with the age-old cost versus treatment dilemma and believes that there is much to be done still regarding educating pet owners in relation to the costs of veterinary treatments.
All too often pet owners fail to comprehend the differences between the cost of human treatments to that of treating their pets, some even possibly being under the misconception that pet treatments should be less expensive. There as you know are a number of contributing factors the principle ones being economies of scale, most modern vet practices use similar equipment to that found in human health facilities however the volumes of patients are significantly disparate but possibly the key issue being the lack of understanding around there being no Medicare for pets. When comparing the cost of a blood test for example pet owners often equate what they pay, which is then the gap with much of the costs being funded to that which they are charged by their vet for a similar procedure for their pet.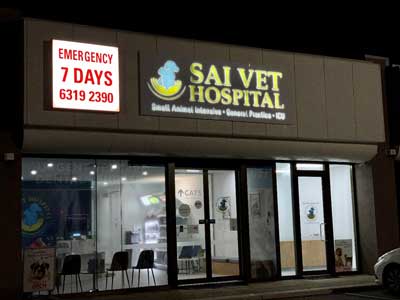 The opening of SAI Vet Hospital coincided with the launch of the Vets Choice pet insurance Elite and dental products and Dr Amit employed a strategy from the outset to try and get as many of his patients insured as possible, they employ a proactive approach to positioning pet insurance with their customers and very much see this as being one of their core customer engagement strategies.
"When a pet is insured the discussions regarding treatment options is able to be focussed on what is best for the pet and the pets needs rather than what costs are associated with the options." "We have a strategy here to try and get all of our pets insured".
When asked how he positions pet insurance Dr Amit is straightforward in his response, "Pets are family members, people view them as such and we simply ask if they are insured, if they have considered pet insurance and that we believe it is in the pets interest to be insured" From the outset SAI Vet Hospital has been a Vets Choice referral partner. "We don't recommend pet insurers as such, we would not do this, but when asked as we invariably are after we raise the subject we tell our customers that we have brochures available for them to take and that Vets Choice is the only pet insurer recommended by the Australian Veterinary Association."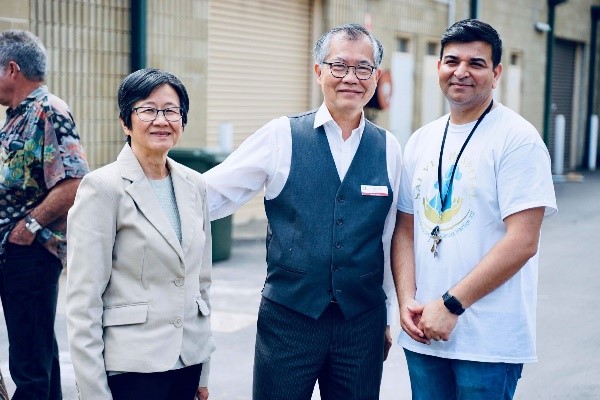 Dr Amit and the team have quickly established SAI Vet Hospital as part of the Willetton community
The team at SAI Vet Hospital very much see themselves as assisting their customers in firstly becoming aware of the benefits of pet insurance and then in empowering them to make their own informed decisions. "We treat all animals, insured or not, but invariably have less difficult conversations with the owners of insured pets.
Dr Amit has also been keen to embrace the benefits of the Vets Choice Rookie policy. This is a free 28-day policy able to be provided by referring vets to all Kittens and Puppies over 8-weeks old and under 6-months old. "This enables us to provide free cover for our customers, when we raise the subject of pet insurance the Rookie Cover provides cover instantly, with its one day waiting period for accidents and 2-days for illnesses, pet owners can leave the practice covered whilst they then investigate their options."
The Vets Choice Rookie policy is available for all referring vets to provide to their customers, it is absolutely free, as in no cost whatsoever to pet owners, it is not a one-month free offer, it is a stand-alone kitten and puppy policy with coverage based on the Vets Choice Pro policies. "For us this is a no-brainer, we are giving customers a gift, this is a benefit that new pet owners get when they bring their pets to SAI Vet Hospital".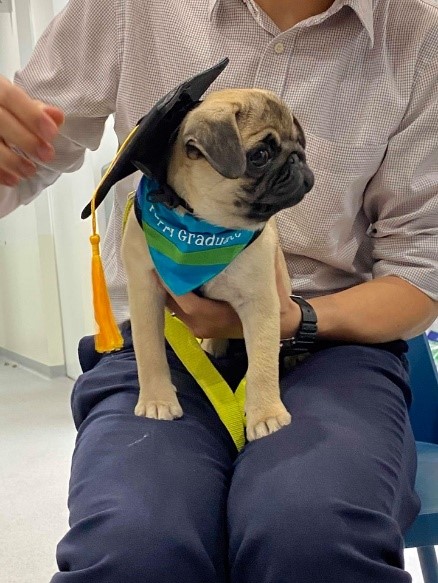 A proud pup graduating from SAI Vet Hospital's puppy class
We wish Dr Amit and the team all the best for the future and if their opening success is anything to go by we are sure this is going to be a well-established and successful practice soon. Congratulations on the opening Dr Amit and all the best for the future.